Glass Door Fronts & Screens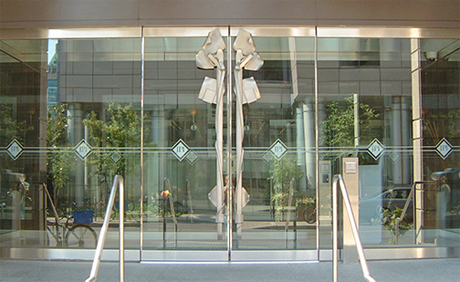 Our in-house manufacturing facilities allow us to create a variety of glass doors and screen partitions with minimal hardware, creating that modern and sleek all-glass look. A selection of glass thicknesses and tints are available, complemented by a variety of metal products and finishes./
Clear tempered glass thicknesses
10 mm (3/8")
12 mm (1/2")
15 mm (5/8")
19 mm (3/4")
Low-iron glass and acid-etched glass are also available in the above thicknesses.
Tinted glass, bronze, gray or blue available only in 10 mm and 12 mm thicknesses.
All our glass products meet the National Standards of Canada CAN/CGSB-12.1-M90 Type 2 specifications for Tempered Safety Glass.
Hardware
Most hardware is available in the finishes listed below. Check availability and lead times with our sales team prior to ordering.
Clear anodized aluminum Standard bronze anodized aluminum Black anodized aluminum Polished or brushed stainless steel Polished or brushed brass
Door types
Series 100 - Top and bottom rail systems
Series 200 - Top and bottom patch fittings
Series 250 - Top patch fittings, bottom rail
Series 500 - Multi-track sliding fronts
Series 510 - Single-track stacking sliding fronts
Visit our specifications page to download the specs for your design system of choice.
Downloads
Click to download our manufacturer specifications.
Specifications
Swing doors, bi-fold doors & sliding doors [DOWNLOAD]
Metal finishes [DOWNLOAD]
Recommended glass cleaning procedure [DOWNLOAD]
Metal maintenance [DOWNLOAD]
Door Rail Systems
Series 100 design uses a rail system only [DOWNLOAD]
Series 250 design combines the Series #200 patch system with a bottom rail [DOWNLOAD]
Door-rail 4" & 6" [DOWNLOAD]
Sidelite rails 4"& 6" [DOWNLOAD]
All-weather glass doors [DOWNLOAD]
Standard aluminum sections [DOWNLOAD]
Aluminum sidelite assembly drawings [DOWNLOAD]
Elevations and sections [DOWNLOAD]
Door Hardware, Locks & Handles Dorma BTS 80 floor closer [DOWNLOAD]
Cement case placement for BTS 80 [DOWNLOAD]
Dorma BTS 88 overhead closer [DOWNLOAD]
Dorma RTS door details [DOWNLOAD]
Hardware details [DOWNLOAD]
Dorma 3/4" offset door detail [DOWNLOAD]
Door hardware [DOWNLOAD]
GBI mortise patch locks [DOWNLOAD]
Push/pull handles [DOWNLOAD]