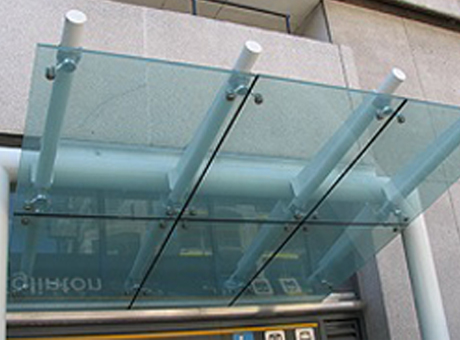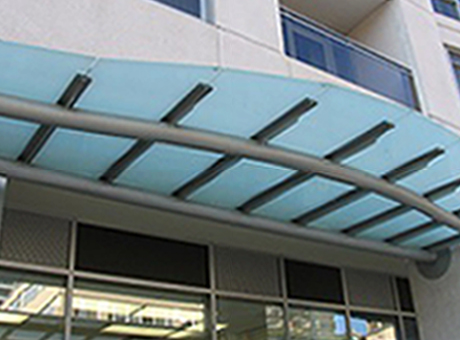 Our laminated glass is manufactured by sandwiching one or more layers of glass together with a thermoplastic interlayer. Our laminating process is achieved using Trosifol® polyvinyl butyral (PVB) between the glass and applying a combination of heat and pressure to achieve bonding of the glass plates. The PVB keeps the glass bonded even when broken, thus classifying laminated glass as a safety glass product.
When laminated glass is broken by impact, it tends to remain integral in its frame, thus maintaining security and minimizing risk of injury from sharp edges and falling glass particles. The PVB interlayer gives the glass a much higher sound insulation, blocks the majority of incoming UV radiation and strongly resists penetration of objects. Because of these features, laminated glass is ideal for use in overhead glazing and security glazing.
We have the capacity to supply custom laminated glass products for most commercial glass applications including railing glass, canopy glass, and internal and external laminated glass partitions. Given our state-of-the-art edging equipment, silk screening line, tempering, heat soaking and fabrication equipment, our laminated glass possibilities are virtually endless.
Capacity
Minimum size 6" X 12" (150 X 300)
Maximum size 84" X 174" (2130 X 4420)
Our laminated glass products meet the requirements for the CAN/CGSB-12.1-M90 and the ANSI Z97.1-2009 for Safety Glazing Materials.